peer

spective

frequently asked questions

WHAT DOES PEERSPECTIVE DO?
PeerSpective uses the shared interest between you and your friends to help guide Web search. When you run a Google search, PeerSpective includes extra results which may be relevant to your question alongside the results from Google. For example, PeerSpective can naturally disambiguate between multiple definitions of ambigious terms: if you search for a friend named 'Peter' in PeerSpective, you're likely to get your friend's homepage, instead of the homepage of Peter Gabriel from Google.

HOW DOES PEERSPECTIVE WORK?
PeerSpective works by indexing all web content you browse to, and then querying your friends' PeerSpective proxies when you run a Google search. Since these is often shared interest between you a your friends, PeerSpective takes advantage of this to select relevant pages to each Web search you run. The PeerSpective proxy runs on your desktop, so you have complete control over your proxy, and you can leave the system at any time.

WHAT DOES PEERSPECTIVE LOOK LIKE?
PeerSpective serves as a web proxy and transparently inserts results alongside your Google results. All other browsing is as normal. Your Google search results appear just as before, but PeerSpective adds an additional column of results from you and your friends. A screenshot is shown below (click for full size):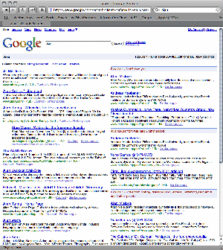 HOW DOES PEERSPECTIVE FIND MY FRIENDS?
PeerSpective is built on top of Skype, and talks only to your Skype contacts who are also running PeerSpective. Using Skype means you don't have to tell PeerSpective who your friends are - it uses your existing Skype contacts. You simply need to run Skype in the background and PeerSpective will discover and communicate with Skype. Additionally, PeerSpective will communicate between multiple machines running PeerSpective with the same Skype username. This allows you to search over your web browsing history across multiple machines.
CAN I DOWNLOAD PEERSPECTIVE?
Yes, you are welcome to try out PeerSpective. Since PeerSpective is an ongoing research project at the Max Planck Institute for Software Systems, we are slowly expanding our user base. PeerSpective is currently in beta status, but you are welcome to try it out. Note that you will need friends on Skype who are also running PeerSpective in order to have the search query multiple people.
CAN I BROWSE WITHOUT PEERSPECTIVE INDEXING?
Yes, you can tell PeerSpective to stop indexing temporarily. If you're running PeerSpective, simply go to the PeerSpective Control Panel at http://localhost:8000, and select 'deactivate PeerSpective'. This will turn off indexing and not query for results for your friends. To reenable PeerSpective, simply select 'activate PeerSpective'.
HOW DOES PEERSPECTIVE PROTECT MY PRIVACY?
PeerSpective does its best to not index any private information. Specifically, PeerSpective does not index any HTTPS requests (such as online banking), and in fact, PeerSpective is not even involved with such transactions. PeerSpective also does not index any pages which are marked Cache-Control: private by the web server, or any pages which are not in HTML or PDF format. Finally, PeerSpective allows you to view the contents of your index, and you can remove any pages which you do not wish to share.
I'VE FOUND A BUG IN PEERSPECTIVE - CAN I FILE A BUG REPORT?
Sure - go to our bug tracking system and fill out a report. We will try and fix the bug as soon as possible. If you leave your contact information, we'll follow up with you if we have trouble reproducing the problem.
Any additional questions? Email us at

. We will more frequently asked questions very soon.